Our car is the best to learn in
When you're learning to drive it's important to feel comfortable, relaxed and confident in the vehicle. I'm sure you will enjoy driving this Peugeot car.
Peugeot 2008. GT Line. 1.5 diesel engine. Black in colour. Sporty looking from Peugeot's SUV range. It comes with features such as built-in SatNav, reversing camera, automatic lights and automatic front wipers.
These features are very useful, as the camera can act as an invaluable tool when the driver is reversing. We would still like you to look out of the back and side windows when undertaking the reversing manoeuvre; however, it is useful to have some glances at the camera as well to gauge your positioning exactly.
An additional benefit is wide–angle/blind spot mirrors. This type of mirror is a useful tool in that it gives you wider vision and, as with the reverse camera, provides the opportunity to have occasional glances to judge your position.
The automatic wipers/lights are very handy if you are driving in wet weather. Once you activate the wipers, the lights will follow suit, meaning that lights and wipers will respond to conditions automatically.
The vehicle also has a Dash Cam, so this certainly gives the driver peace of mind in the event of unfortunate incidents involving other traffic on the road. This is a very useful tool, allowing download and playback of any situations needing review following driving sessions. Clients can download this on to their phones for review purposes.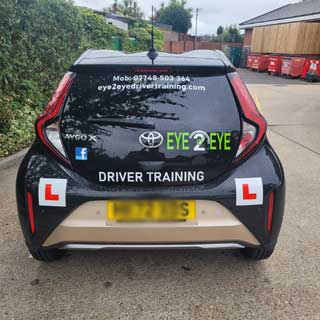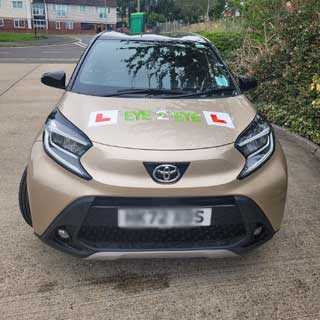 Schedule Your
Driving Lessons

With Eye2Eye

Book a session with Latch

07748 503364
or email us HERE